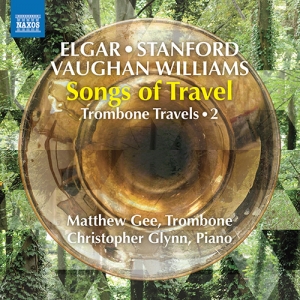 Varios compositores británicos, arreglos para trombón.
Este segundo volumen de la serie Trombone Travels continúa con la exploración de Matthew Gee a tres grandes ciclos de la canción británica de principios del siglo XX.
Sea Pictures (Pinturas marinas) de Edward Elgar evocan por igual el arrullo y la turbulencia, las Songs of Travel (Canciones de viaje) de Ralph Vaughan Williams trazan el viaje solitario de un vagabundo a través del paisaje, y en Songs of the Sea (Canciones del mar) la música de Charles Villiers Stanford abarca tanto lo sombrío como lo estimulante, con Gee unido a un coro de trombones para emular el coro de voces masculinas.
A lo largo del recital, Gee derrocha efectos coloristas, el uso de sordinas y sutiles inflexiones que refuerzan la capacidad única del trombón para imitar las técnicas vocales.
#VariosCompositores #musicadecamara #trombon #marzo2021 #8.579080