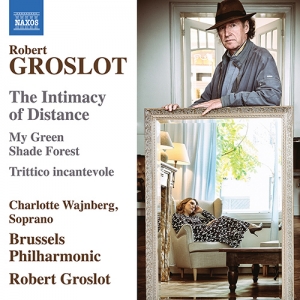 Robert Groslto (b. 1951).
La voz de soprano ocupa un lugar central en la música vocal del compositor belga
Robert Groslot,
y en The Intimacy of Distance ha creado su composición más ambiciosa hasta ahora para voz y orquesta. Explorando cómo los elementos de la vida solo pueden realizarse a través de la experiencia de la distancia, este concierto para soprano y orquesta se mueve a través de varios contrastes hasta un gran efecto transformador. Los tranquilos sonidos de la naturaleza se alternan con líneas melódicas y acordes disonantes en My Green Shade Forest, mientras que Trittico incantevole es una pieza radiante compuesta en honor al pintor Peter Paul Rubens. En esta grabación participa la
Brussels Philharmonic
y la soprano
Charlotte Wajnberg.
#Groslot #musicaorquestal #musicavocal #mayo2021 #8.579100